Discover more from Yatton Matters
Roundup of news and tidbits from my councillor perspective.
School report [4]
Regular councillor roundup
Hello… Steve here.
Welcome to another issue of my newsletter.
This is the time of plenty in the countryside. Hedgerows and trees are in fruit, late-summer flowers splash colour across the landscape (especially in Kenn), and bees are still buzzing (more about that below).
I managed to get away with my family to west Wales for a week earlier this month. The sun even came out. Evening viewing involved The Umbrella Academy (on Netflix). 
A few big stories dropped while I was away...
---
Planning White Paper
The Government approach to almost everything at the moment is top-down, centralised and privatised. This seems no different.
Four years of local campaigning before I was elected to North Somerset Council turned me into a bit of a planning geek, so I follow developments like this keenly.
At the heart of what the Government is proposing in Planning for the Future is a change that would see local plans divide areas into three categories of land use designations: "growth", "renewal" and "protected" areas. Unpicking all this is worth a newsletter on its own, so instead I'll signpost a few excellent pieces I've read (and largely agree with) and invite you to an online public meeting I will host next week.
Incidentally, more UK homes were bought and sold in July and early August than at any time in the previous decade. Pent-up demand, I suppose… and people leaving London.

Tuesday 25th August (7:30pm)
I'm hosting an online public meeting to discuss housing and planning in Yatton and the emerging Local Plan. As I mentioned last time, there are potentially multiple applications on the way. I'm asking people to register in advance so I can keep tabs on numbers. After registering, you will receive a confirmation email containing information about joining the meeting.
I read about a YouGov online poll earlier this week which found that only around one in ten young people actively engage in local plan consultations. On that note, I'm happy to support Portishead South Cllr Huw James who is urging young people in particular to take part in the Local Plan 'Challenges' consultation before the 2nd September closing date. Huw is 24 and said:
This is our future. We need to make sure young people are part of the conversation… and for a Local Plan to work, it needs to tackle the issues and problems faced by young people. We need to hear from more of our residents aged under 30, who might not yet have their own home or a family of their own, but will over the next 10-20 years.
---
Bristol Airport expansion
I voted against airport expansion with seventeen other councillors in February. While disappointing it is not altogether surprising Bristol Airport has declared its intention to appeal - expected to land formally in early September. We are already preparing and marshalling resources to mount a vigorous defence of the Council's decision.
Aircraft movements obviously plummeted during lockdown - by as much as 97% in April for example (143 compared to the forecast 5,348). It has since picked up of course, but I'm not sure by how much.
The Leader of the Council - Cllr Don Davies - said the Council will consider a planning application in future "when the airline industry has decarbonised and the public transport links to the airport are far stronger."
---
School report
The Government has continually reaffirmed that it is a national priority for all children and young people to return to full-time education in September.
Backwell School has been constantly updating information about the return to school and how the school day will look different to previous years - with staggered start and finish times (without shortening the number of teaching hours) and putting classes or whole year groups into "protective bubbles" to minimise the number of contacts each student has during the day.
With regards to school transport arrangements for September, the school has published this note today (Friday).
When I last spoke to the Council's Integrated Transport team they had been waiting for the detailed guidance from the Department for Education before communicating transport arrangements to parents. The team has been proactively working with the staff at Backwell School to accommodate specific 'bubbles' where possible and I anticipate a communication will go out to parents before the August bank holiday. As I write this (on Friday afternoon) I have just taken a call from the Leader of the Council and we discussed the challenges - and likely solutions being put in place.
It is likely that students in Years 7 to 10 will be taken to school on 'closed door' coach contracts, with the vast majority of students allocated seats on coaches containing a single year group - although this is complicated by siblings in different school years.
We won't get complete clarity on how the cohort of about fifty Year 11 students will get to school until next week. A dedicated coach is being actively explored, but the Council is also still in discussion with GWR.
---
Like many others (with a double whammy of A Levels and GCSEs) it has been a stressful week in our house.
While Gavin Williamson, the education secretary, was grovelling on telly and radio last week, for me the fiasco around exam results and the failed the algorithm test raises broader questions about how our assessment system operates - including how grades are awarded each year and how tests drive the school curriculum. As I mentioned at the top, I've recently returned from Wales where I think Michael Gove's A-level reforms were never introduced and grades still take into account coursework. I have always believed our obsession with final exams damages our young people.
I recall this Guardian editorial from a couple of years ago…
Successive governments hoped to harness the ambition of families to give their children the best education possible. But this ambition is by its nature limited. It does not extend to other people's children. In fact, the system lives up to Gore Vidal's sardonic observation that "it is not enough to succeed; others must fail".
Deep down I believe this is partly why we don't see more of an uproar from parents. This and the fact "we live far too quietly and fatalistically" - as John Harris argued recently.
As with so many other things over recent months, exam results also have the potential to make existing inequalities much worse.
Anyway, congratulations to those who got the grades they needed. To those who didn't, my very best for what comes next. You've all had to put up with an abject shambles this past week, and you deserve better.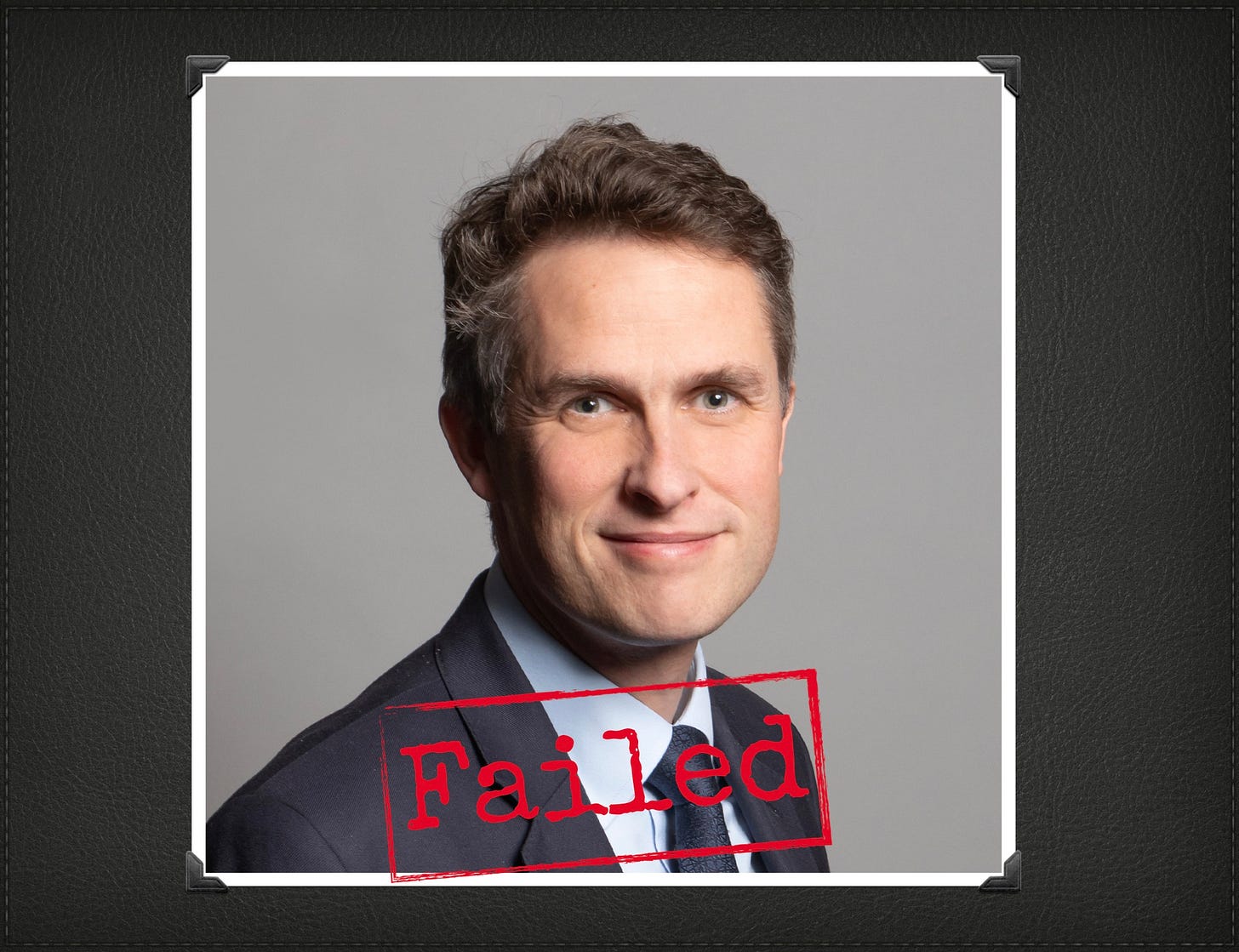 ---
The Bees Knees
The Yellow Loosestrife bee has been found in Yatton thanks to Tony Moulin and Yatton and Congresbury Wildlife Action Group (YACWAG) who have successfully brought back the rare bee by careful management of its local reserves.
The bee has never before been recorded in the Bristol region or in North Somerset - the nearest record comes from Westhay on the Somerset Levels. The Yellow Loosestrife bee makes its nests underground in ditch banks, waterproofing the chambers with an oil it makes from the pollen of (you guessed it) Yellow Loosestrife, which although rare is thriving in YACWAG's reserves. As Tony said:
If YACWAG had not bought the fields [in 2006]… if they had been sold for development or managed more intensively, then the colony would have been wiped out without anyone even knowing they existed. Our wildlife is so fragile.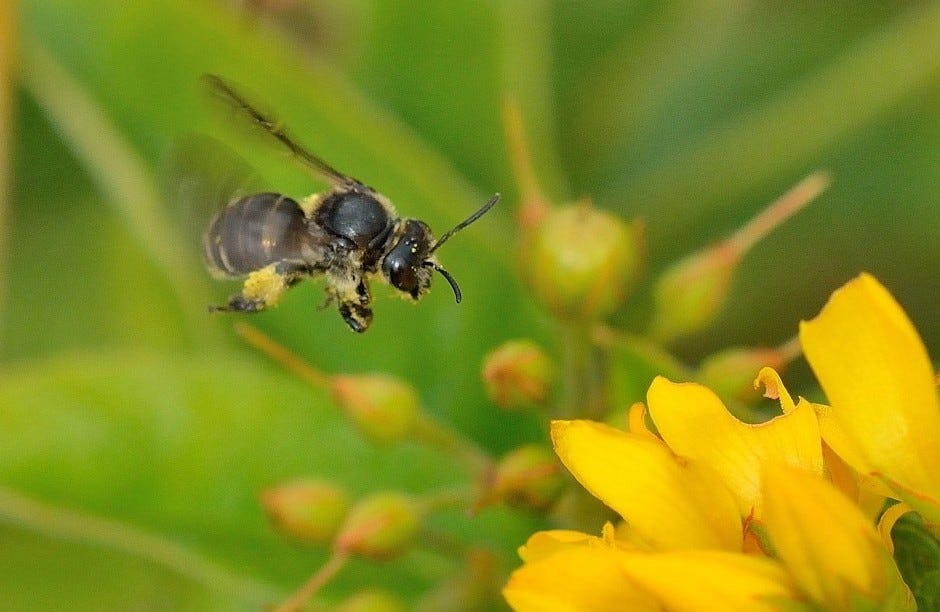 [Photo by Higgy with permission © Somerset Wildlife Photography]
---
Badger cull
On a more downbeat note (in my view), I've learned that it is "highly probable" that one of the new badger culling licences approved this month by Natural England in the name of preventing spread of bovine TB will be within North Somerset. I have no specific detail on the area boundaries.
The switch from intensive badger culling in favour of vaccination will be phased in over the course of this decade, but will come too late for badgers in our area - and over 100,000 animals already killed since 2013. The main endemic infection remains within many of the UK's cattle and dairy herds. Another sad and sorry mess.
---
Last week was National Allotment Week and there has been a surge in allotment interest during the pandemic. This is borne out by the fact that all sixty-eight of the 10m x 5m plots have been reserved on the new site at North End. There is now a waiting list. Bloor Homes will complete the site in the next few weeks in readiness for the hand over to Yatton Parish Council. That might take a few more months; some legals to sort out.
My wife put her name down for one of the plots, so watch this space.
---
Public health
Without any consultation or scrutiny Matt Hancock has decided he wants to scrap Public Health England (PHE) and replace it with a new organisation, the National Institute for Health Protection, that will absorb parts of PHE, the Joint Biosecurity Centre and NHS Test and Trace. While PHE may well have some questions to answer, I'm not sure it makes sense to take such drastic action in the middle of a pandemic. The announcement actually raises more questions than it answers - and I won't even get into whether or not Dido Harding is really the right person to lead the new body - even temporarily. What will happen to PHE's work on tackling health inequalities and preventing ill-health. This was a point made by the Association of Directors of Public Health. It was only last month that the Government unveiled a new obesity strategy.
Next week I'll be participating in the first meeting of the Local Outbreak Engagement Board. The purpose of this new board is to provide oversight of the Local Outbreak Management Plan, which the Council published at the end of June. This will play a key role in ensuring appropriate communication across communities and specific settings and will support our local response to the pandemic.
---
Briefly…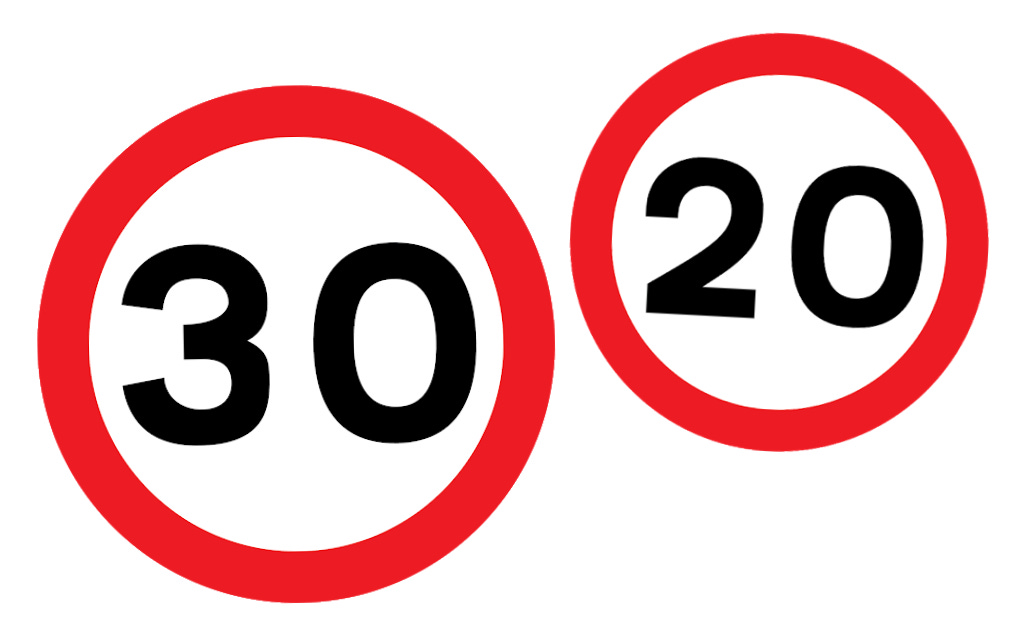 The reconfigured Arnolds Way roundabout has reopened - with the 30mph zone now extended from the rugby club to just beyond the roundabout. I'm aware North End residents are worried vehicles will accelerate out of the bend and want to re-state that I want the 30mph limit further extended as far as the Bridge Inn. The regulations are technically complex and we may need to introduce traffic calming measures to reduce speeds sufficiently close to 30mph to make that happen - along with the pelican-style crossing to link the Curo build (which will commence next month) with the Bloor development.

I am also pressing for the public consultation on the 20mph limit through Yatton High Street (Cherry Grove to the B3133/Claverham Road roundabout) to get underway this Autumn… with delivery early next year.
Surface dressing along a long stretch of Wemberham Lane is due to take place on Saturday 22nd August (weather permitting). This leaflet has been delivered to residents directly affected but is a helpful primer for everyone about what the work involves.

I understand that the outreach post office in Claverham Village Hall reopened on 17th August. Opening times are: Mondays and Wednesdays 9:00am -12 noon.

Yatton Library also reopened with a limited service and reduced opening hours on 10th August.
---
While this cartoon made me smile, I think there's a more serious side. Now that the evenings are drawing in ever-so-slightly, I'm looking ahead to those days when it is dark in the mornings and dark in the late afternoon - with the time in between spent online. I think that will be tough for many people.
---
Thank you for reading this far.
Steve
ps you can also find me on Instagram, Twitter, Facebook and my website.